This edition: July 2017
Tweet
Episode Details
Original tape date: June 26, 2017.
First aired: July 14, 2017.
Mike Gilliam visits the Museum of the City of New York's exhibit, "A City Seen: Todd Webb's Post War II New York 1945 - 1960."

CUNY's Graduate School of Journalism presents Artist Ronald Ritzie.

Magalie Laguerre-Wilkinson meets artist James McMullan who has been creating Lincoln Center Theater's iconic posters for over 30 years.

Barry Mitchell visits The World Science Festival and shows us how Art & Science are connected.

Donna Hanover meets EMMY & Peabody winning writer -- Sherman Yellen.

Andrew Falzon discovers the unexpected work of fashion photographer Richard Phibbs.

Tinabeth Piña uncovers this months hidden gem - the popular spaces of The New York City Parks Department for the summer.

Guest List
Web Extras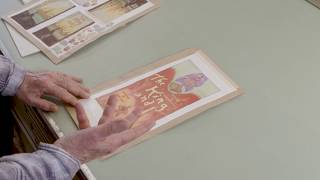 James McMullan, "The King and I" poster
Artist James McMullan shows how he created "The King and I" poster.
Tuesday, May 28 - 8:00pm
Wednesday, May 29 - 8:00am, 2:00pm
Saturday, June 1 - 6:00pm
Sunday, June 2 - 8:30am
Tuesday, June 11 - 8:00pm
Wednesday, June 12 - 8:00am, 2:00pm
Saturday, June 15 - 6:00pm
Sunday, June 16 - 8:30am
Tuesday, May 14 - 8:00pm
Wednesday, May 15 - 8:00am, 2:00pm
Saturday, May 18 - 6:00pm
Sunday, May 19 - 8:30am
Tuesday, April 23 - 8:00pm
Wednesday, April 24 - 8:00am, 2:00pm
Saturday, April 27 - 6:00pm
Sunday, April 28 - 8:30am