This edition: Asian Americans in Arts and Entertainment
Tweet
Episode Details
Original tape date: October 29, 2013.
First aired: November 14, 2013.
Profiles of Asian American leaders in the arts & entertainment business, including contemporary artists, musicians, author, playwright, dancer and filmmakers.

Guest List
Ken Chen Executive Director, Asian American Writers' Workshop
Susan Choi Author, "My Education"
Jae "J-spliff" Choung Musician, Far East Movement
Ernabel Demillo Host, Asian American Life
Ingrid Dudek Vice President, Christie's, Asian 20th Century and Contemporary Arts
Janet Eilber Artistic Director, Martha Graham Dance Company
William Lex Ham Filmmaker, 72 Hour Shootout
David Henry Hwang Playwright, Signature Theatre
Chee Wang Ng Contemporary Artist, "The 360 Walks of Life Labyrinth"
Kevin Nishimura Musician, Far East Movement
Grace Park DJ, m-sparks
Virginia Walsh Director, Ann Street Gallery
John C. Woo Executive Director, Asian CineVision
Xiaochuan Xie Soloist Dancer, Martha Graham Dance Company
Jennifer Betit Yen President, Asian American Film Lab
Web Extras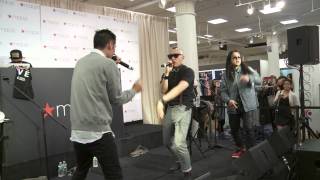 Far East Movement at Macy's
Hip Hop group Far East Movement performs at Macy's Department Store in New York City.
Tuesday, June 4 - 8:00pm
Wednesday, June 5 - 8:00am
Saturday, June 8 - 6:00pm
Sunday, June 9 - 8:30am
Tuesday, June 18 - 8:00pm
Wednesday, June 19 - 8:00am, 2:00pm
Saturday, June 22 - 6:00pm
Sunday, June 23 - 8:30am
Tuesday, May 7 - 8:00pm
Wednesday, May 8 - 8:00am, 2:00pm
Saturday, May 11 - 6:00pm
Sunday, May 12 - 8:30am
Tuesday, May 21 - 8:00pm
Wednesday, May 22 - 8:00am, 2:00pm
Saturday, May 25 - 6:00pm
Sunday, May 26 - 8:30am
Tuesday, April 30 - 8:00pm
Wednesday, May 1 - 8:00am, 2:00pm
Saturday, May 4 - 6:00pm
Sunday, May 5 - 8:30am