This edition: April 2015
Tweet
Episode Details
Original tape date: March 13, 2015.
First aired: April 3, 2015.
"Fresh Off the Boat" is a historic sitcom on ABC prime time television. Host Ernabel Demillo sits down with lead actor Hudson Yang, who shares why the show is a success. Imagine an opera based on the Silence of the Lambs' serial killer Hannibal Lecter. Reporter Paul Lin meets One World Symphony's composer combines high art with pop culture. Correspondent Minnie Roh teams up with writers Greg Pak (Incredible Hulk) and Amy Chu (Wonder Woman) to talk about the rise of Asian American writers and illustrators in the comic book and superhero industry. Reporter Kyung Yoon profiles an Asian American entrepreneur who shares his secret to success. David Chung has turned his mom and pop store in Koreatown into a hundred-million dollar global skincare empire.

Guest List
Web Extras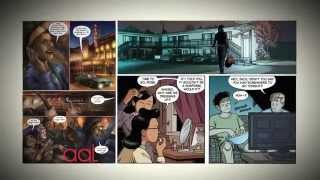 Greg Pak and Amy Chu
Minnie Roh gets into action with super heroes!