This edition: Our Lady Queen of Harlem + Patty Rodriguez's Interview
Tweet
Episode Details
Original tape date: December 15, 2016.
First aired: December 15, 2016.
On a crumbling sidewalk in the heart of Spanish Harlem, a small but impassioned group of women are fighting for their community. When the Archdiocese of New York locked the doors of the church where many of them spent their entire lives worshipping, this determined family of parishioners decided to resist the ministerial decision and take matters into their own hands. A portrait of faith and disobedience, "Our Lady Queen of Harlem" is an exploration of activism and the very definition of church.

The film, directed by Trinidad Rodriguez and produced by Third World Newsreel, is accompanied by an interview with Patty Rodriguez, a former parishioner of the Church of Our Lady Queen of Angels. She describes her community's ten-year-old struggles to reopen their beloved church.

Guest List
Web Extras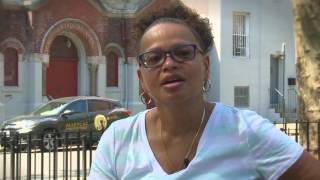 Interview with Patty Rodriguez
A former parishioner describes her community's struggles to reopen their beloved church.