This edition: "Here to Stay" + Melanie Wang's Interview
Tweet
Episode Details
Original tape date: January 19, 2017.
First aired: January 19, 2017.
"Here to Stay"
This short documentary illustrates the effects of gentrification in Manhattan's Chinatown as an elderly man and fellow tenants in endangered single-room occupancy building await the results of an anti-eviction lawsuit. (7 minutes)

The film, directed by ManSee Kong and produced by Third World Newsreel, is accompanied by an interview with Melanie Wang, the Chinatown Tenants Union -CTU Organizer. She describes her work organizing against tenant displacement, fighting gentrification, and advocating for housing policies that protect affordable housing for low-income tenants.

Guest List
Web Extras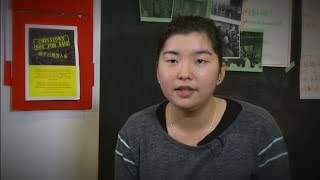 Interview with Melanie Wang
Organizing against tenant displacement and fighting gentrification in Chinatown.