This edition: "Surviving Child Abuse - Monica's Refuge"
Tweet
Episode Details
Original tape date: January 18, 2018.
First aired: January 18, 2018.
This piece describes the ordeal of Monica, a young woman from Medellin, Colombia. After the death of her parents, she was sold to various childless couples who continuously abused and molested her. At the age of 11, she finds shelter at an orphanage supported by the Orphaned Starfish Foundation. There, she finds educational assistance and psychological support to become a graphic and fashion designer.

The short, produced by Carmen Vidal, streams in collaboration with CUNY TV's Nueva York series.

Guest List
Mónica Student
Andy Stein Founder & Executive Chairman, The Orphaned Starfish Foundation
Web Extras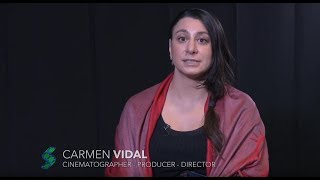 Interview with Carmen Vidal
Carmen Vidal describes her commitment to social issues through filmmaking and education.