This edition: "A Raisin in the Sun" and "Aladdin"
Tweet
Episode Details
Original tape date: April 11, 2014.
First aired: May 17, 2014.
Theater Talk welcomes actresses LaTanya Richardson Jackson, Sophie Okonedo and Anika Noni Rose, from "A Raisin in The Sun" as they discuss their roles in the play. Also, director Casey Nicholaw and actor James Monroe Iglehart reflect on their Broadway hit "Aladdin," based on the Disney film and starring Iglehart as "Genie."

Guest List
Web Extras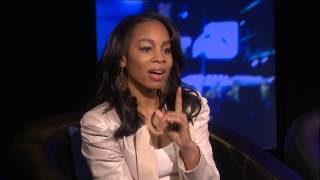 RAISIN's Tony-nominated Trio
More with LaTanya Richardson Jackson, Anika Noni Rose, Sophie Okonedo of A RAISIN IN THE SUN.
No upcoming shows on the schedule
Monday, December 31 - 8:00pm
Saturday, January 5 - 8:30pm
Sunday, January 6 - 7:00am
Monday, January 7 - 7:30am, 1:30pm
Monday, December 24 - 8:00pm
Saturday, December 29 - 8:30pm
Sunday, December 30 - 7:00am
Monday, December 31 - 7:30am, 1:30pm
Monday, December 17 - 8:00pm
Saturday, December 22 - 8:30pm
Sunday, December 23 - 7:00am
Monday, December 24 - 7:30am, 1:30pm
Monday, December 17 - 7:30am, 1:30pm